Be a THINKing Partner
App Description
Partner with others to talk through tough decisions, confusing situations, or new ideas. Do more listening; less advice giving.
Hands-on, portable, do it anywhere app. Learn the skills and techniques to be a THINKing Partner!
Improve your listening skills and ability to ask thought-provoking questions
Learn how to structure a conversation that encourages awareness of what is happening and actions that produce desired results.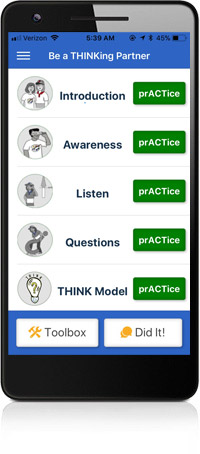 Module 1: Introduction – What is a THINKing Partner? (free)
The additional modules are an in-app purchase. One purchase buys all remaining modules.
Module 2: Awareness –The  power of awareness and action
Module 3: Listen – What to notice when you are listening
Module 4: Questions – How to ask powerful questions
Module 5: THINK Model – Follow the 5 THINK steps

prACTice what you learn in each module

Tools such as assessments, activities, record keeping

A place to record what you accomplished and see what others have accomplished
Key Features

Micro Lessons of Powerful Content: Read each app screen for a micro lesson with small bursts of specific powerful content
Toolbox: Use the tools repeatedly for different conversations. Pick and choose the tools that are best for your situation.
Videos: Watch the 1-minute micro-lesson videos throughout the app. Each video explains how to apply the app content.
prACTice: Strengthen your ability to be a THINKing Partner by completing practice exercises.
Font Sizes: Choose between two font sizes for comfortable reading.
Bookmark: Bookmark "important to you" content. Quickly find that content when you need it.
Did It: Record your progress and prACTice results. The data you provide helps to assess the power of the app.
Badges of Completion: Complete the activities and earn badges of completion.
Background About this App
Diane Morrison, the author, has been teaching leaders to use coaching skills for 20 years. In classroom sessions, many leaders talk about using coaching skills with family members and friends. Absolutely! Almost everyone will benefit from having a THINKing Partner. Sometimes the act of coaching seems overwhelming, so let's make it simple: less telling and more listening and asking thought provoking questions.
The Authors
Diane Morrison and Marcy Sprenkle are sisters. Diane is the writer and designer, while Marcy is the researcher. Marcy's research background and skills and Diane's coaching experience came together to create the Be a THINKing Partner app.
Marcy lives in New Mexico with her two children and fur baby, Buddy. Marcy teaches school and is earning her Ph.D. in Performance Psychology.
Diane lives in Michigan with her husband, two children, five grandchildren, and fur baby, Annabel. Diane has been teaching leadership skills for 20 years. She helps leadership teams implement organization-wide training programs.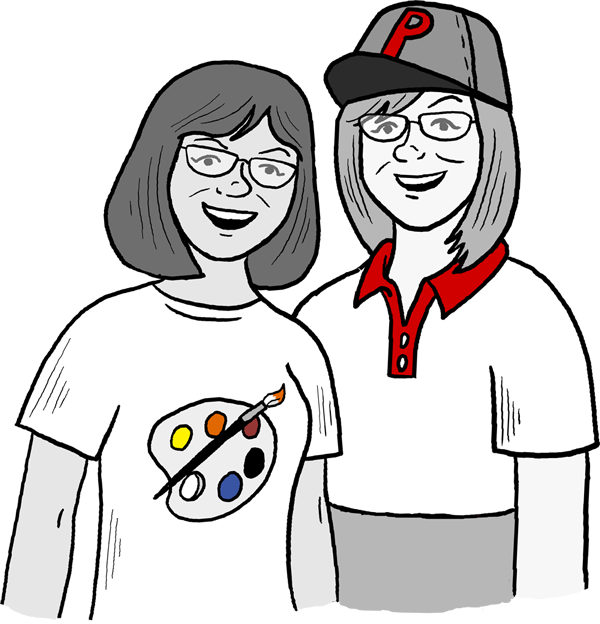 App Screenshots