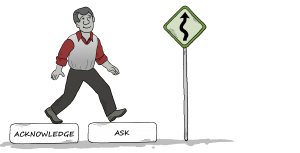 Use the "Double A" Response to Handle Delegation Resistance.
When you observe resistant body language or hear the words or a tone of resistance, use the "double A" response.
(1) Acknowledge the resistance.
(2) Ask an open-ended question.
Example: "I agree; you are busy. You work hard and get a lot done." Pause … "This assignment is important, and I'm wondering if we can talk about how it could fit into your priorities and work schedule. We might have to shift some assignments around or reprioritize. What are your thoughts?"
Learn more tips on how to discuss doubts and handle resistance during delegation. Read the app, 2-Way Delegation, and immediately feel more confident about your delegation abilities.