Objectives
Assess how you currently use influence behaviors and identify areas for development.
Demonstrate influence by expressing yourself clearly.
Apply listening and asking questions, rather than position and status, to influence others.
Establish clear goals for how you want to "show up" during influence situations.
Apply influence skills to a real-life influence opportunity.
Influencing Model
Below is the influence model for Personal Leadership and Influence. This model depicts that our ability to influence is driven by how we show up. How we show up is determined by the influence style and the communication skills we choose to demonstrate. How we show up is predetermined by the awareness we have of ourselves and others. Our intention, stated or unstated, also impacts how we show up.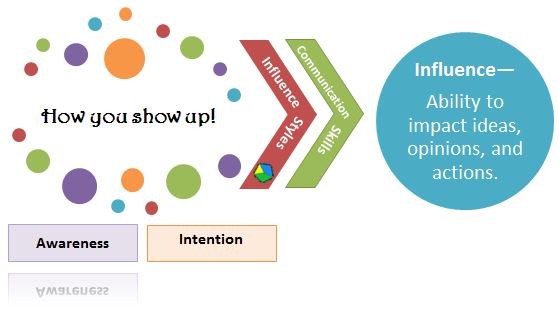 Timing Guide
Below is a table that depicts the topics, timing, and elapsed timing for the course.
Activity
Timing
Elapsed Timing
Welcome
15 min
(15 min)
Definition of Influence
5 min
(20 min)
How Do You Show Up?
40 min
(1 hr)
Influence Model
5 min
(1 hr and 5 min)
Influence Style Indicator
25 min
(1 hr and 30 min)
Influence Style Exercise
25 min
(1 hr and 55 min)
Apply It—Influence Situation Worksheet, section 1
5 min
(2 hrs)
Break

Apply It—Influence Situation Worksheet, section 2

15 min
(2 hrs and 15 min)
Influential Communication: Being Influence-able
10 min
(2 hrs and 25 min)
Building Amazing Listening Habits
20 min
(2 hrs and 45 min)
Apply It—Influence Situation Worksheet, section 3
5 min
(2 hrs and 50 min)
Listening for Multiple Perspectives

Circles of Perspective Exercise

5 min

30 min

(3 hrs and 25 min)
Apply It—Influence Situation Worksheet, section 4
5 min
(3 hrs and 30 min)
Asking Effective Questions
30 min
(4 hrs)
Being Open minded
Optional
If time permits
Apply It—Influence Situation Worksheet, section 5
5 min
(4 hrs and 5 min)
Lunch
45 min
(4 hrs and 50 min)
Expressing Your Viewpoint
15 min
(5 hrs and 5 min)
Confidence in Cards Activity
35 min
(5 hrs and 40 min)
Simplification
30 min
(6 hrs and 10 min)
Apply It—Influence Situation Worksheet, section 6
25 min
(6 hrs and 35 min)
Break
10 min
(6 hrs and 45 min)
Responding to Differences
15 min
(7 hrs)
The Meeting Skills Application
60 min
(8 hrs)
Action Planning
20 min
(8 hrs and 20 min)
Closing
10 min
(8  hrs and 30 min)