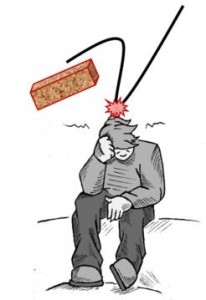 The brick is the truth and the hard place is the ability to get the truth.
It hits you like a ton of bricks: What people tell you might not be what you need to hear to get better at something, to be successful in your career, to fix a mistake, to make a better decision, or to effectively solve a problem.
The more we are in a position to influence someone else's career, status, or reputation, the less likely we are to be given constructive feedback.
A group of 30 new leaders were given the task of asking their direct reports for feedback. They were astonished at how difficult it was to obtain constructive feedback. It perplexed and worried them.  Most direct reports they asked were not willing to give constructive feedback; instead, they responded with positive feedback. It is a hard reality to realize that people don't always feel safe telling us what's not working.
However, there are ways to increase the chances of obtaining feedback that is constructive.
Make it anonymous.
Give the person time to think about it.
Ask for specific amounts of feedback.
Example: Would you tell me one thing I could do in meetings to get more participation?
Be specific about the topic and type of feedback you are asking for.
Tell the person how you will use the feedback.
After the feedback, let the person know how you used his/her feedback and say thank you.
If you want feedback about how you are delegating work to others, the 2-Way Delegation app is an excellent tool. It has an in-app feedback system that sends an email requesting feedback about what to stop, start, and continue when delegating work or completing delegated work. You will find this app in the App Store or Google Play.