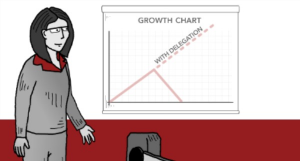 The quandary with delegation is that it is not required. It is a choice.
You decide.
Stay late, stunt your professional growth (and your employees'), miss your family gatherings, be overwhelmed, be a roadblock.
or
2. Go home on time, grow your team, take on more challenging projects, accomplish more as a team, enjoy life.
Delegation is necessary to maximize your productivity and that of your team. It is also necessary to have a life outside of work.
2-Way Communications, LLC created the 2-Way Delegation app for iOS and Android. It is an excellent interactive read that gives a new perspective on why and how to delegate. Learn more at https://www.2waycommunications.net/delegation-app/
Learning and Development professionals can also learn more about our half-day Delegation course. Teach the classroom course in your organization and reinforce the skills with the mobile app.  https://www.2waycommunications.net/course-outlines/delegation/
#delegation #leadershipdevelopment #communication