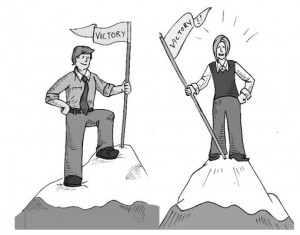 It's your chance to advance. Take action for career traction.  For more specific actions and advice about advancing your career:  Download the app, 2-Way Delegation, read the career altering advice, and complete the exercises in the delegatee sections. You will immediately start to advance your career.
Ask for feedback. 
Feedback is information you can use to understand how someone perceives your work, to change behavior, and to develop your skills. Receiving feedback, especially the constructive type, isn't always easy. However, think about what would happen if you never received feedback that what you were doing was ineffective. What would be the impact? If you know someone who is disappointed about his/her career status, very likely no one gave that individual feedback to help change a behavior. Or perhaps he/she didn't listen to the feedback that was given.
Communicate your development needs.
Communicating with a manager about skills you want to develop or situations you want to experience can appear risky, because it requires vulnerability. You are trusting that your boss will not think you are being too bold or too weak. You can minimize your feelings of vulnerability by preparing to have the conversation in a way that is confident and clear about what you want. Think about the language you will use to confidently and clearly communicate your thoughts and feelings, and then schedule a meeting to have the conversation.
Be trustworthy when completing delegated work.
Delegatees, you might be interested to know that most managers struggle with delegation. Delegating is often an act of bravery for the manager. If you step into your manager's shoes, you might understand the risk the manager is taking by giving you an assignment for which he or she is accountable. With the act of delegation, your manager is trusting you with his/her reputation. You might love your manager, or you might have little love for him/her. Either way, he/she is the manager. It is important for your career and reputation that you receive delegated assignments respectfully and in a way that builds trust.